Main content starts here, tab to start navigating
WELCOME TO ANTO
Anto is a high-end Korean Steakhouse restaurant on the Upper East Side of New York City
with a cocktail bar, Korean barbecue, Chef's Counter and VIP private dining.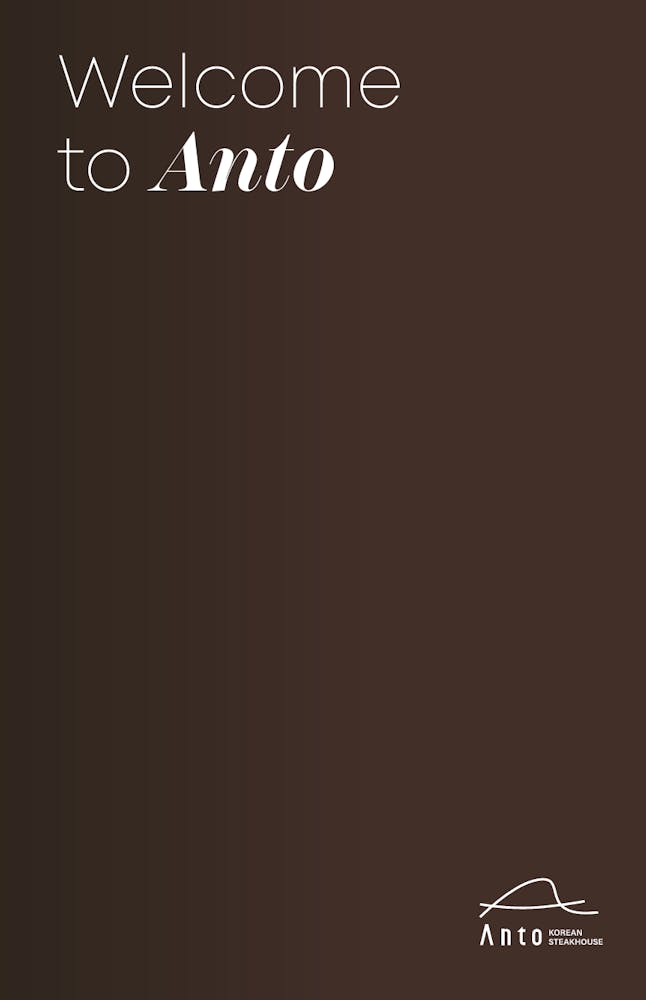 By the Sea 해산물

Blue Point Korean Oyster
굴무침

Gochujang, Watercress

4 pcs $14

8 pcs $22

Shrimp Cocktail

Spotted Prawns, Yuzu, Gochujang Cocktail Sauce

$22

Soy Cured Trio
세가지 해산물절임

Scallop, Salmon, Spotted Prawn

$42

Appetizer 전채요리

Beef Tartare Kimbap
육회김밥

Beef Tartare, Seasoned Rice, Radish, Gamtae Seaweed

$26

+ Uni 22 / Caviar 40

House Salad
안토샐러드

Romaine Lettuce, Dried Anchovies, Parmesan Cheese, House Perilla Seed Dressing

$20

Seafood Pancake
남도식 해물파전

Shrimp, Squid, Corn, Scallion

$20

Mushroom Japchae
버섯 잡채

Mushrooms, Vegetables, Potato Starch Noodles

$22

Truffle Beef Jeon
트러플 육전

Beef, Black Truffles, Pickled Vegetables

$32

Main 식사

Blue Claw Crab Noodle Soup
게 국수

Blue Claw Crab, Smoked Trout Roe, Dash Broth, Seaweed

$24

+ Uni $22

Perilla Oil Noodle
들기름 막국수

100 yr. old Soy Sauce, Perilla Seed, White Kimchi, Perilla Oil

$20

Bibimbap
비빔밥

Mountain Vegetables, Stir Fried Beef, Gochujang Sauce, Egg, Sesame Oil

$22

Granded Seafood Rice
해산물 솥밥

Roasted Fish of the Day, Spotted Prawn, Garlic Chive

$38

+ Truffle 30 / Uni 36 / Caviar 65

Soybean Soup

100 yr. old Fermented Bean Paste, Beef Broth, Mixed Vegetables

$20

Soft Tofu Soup

Silken Tofu, Spicy Broth

$20

Butcher's Hansang 한상 - 75-




Banchan
반찬

Variety of Traditional Side Dishes

Ssam
쌈

Mixed Vegetables with House Sauce

Anto Meat Platter
안토 프라임 고기

4 of Chef's Choice, including Galbi

Geotjeori
겉절이

Fresh Kimchi Made to Order

Biji
비지

Classic Soy Puree Stew

CAVIAR 캐비어

Potato Pancake, Tofu Mousse

Korean Platinum Ossetra

1 oz $78

1 tin (4.4 oz) $312

Korean Sevruga

1 oz $88

1 tin (4.4 oz) $352

For the Grill 고기

USDA Prime 육류

Filet Mignon 안심

$52

Striploin 채끝등심

$42

Ribeye 꽃등심

$48

Marinated Galbi 안토 갈비

$48

American Wagyu 아메리칸 와규

$43

Hudson Valley Duck 허드슨 오리

$50

Seafood 해산물

Freshwater Eel
민물장어와 복분자

Charcoal Seared Freshwater Eel, Blackberry Nuruk, Soy Perilla

$60

Vegetable 야채

Vegetable Platter 야채모듬

Corn, Eggplant, Bell Pepper, Mushroom

$26

*Consuming raw or undercooked meats, poultry, seafood, shellfish, eggs or unpasteurized milk may increase your risk of foodborne illness.
Private Events
For Reservations with 6+ Guests, Private Dining, Corporate Dinners, Partial and Full Buyout inquiries, please reach out to our Events Director by filling out the Event Request form. We look forward to hosting your event.
Inquire Now